Dropshipping is the best business model to get started in the world of ecommerce, specially for beginners.
But it's not as simple as simply buying and selling things in your business – there are a variety of factors to consider when selecting the best product for your clients at the best price.
And if you're doing all of the research by yourself (or have hired someone to do it for you), it can be time-consuming and costly!
That's why we've put together a list of the finest winning dropshipping product research tool for you – they'll make finding new products lot easier and faster, allowing you to focus on developing your business rather than searching endlessly on facebook feeds and AliExpress.
Why dropshipping product research tool is recommended by most dropshippers?
Performing your own product research is fantastic (and usually free), but it takes a lot of time. And, let's face it, there are instances when we spent the whole day scrolling through your Facebook feeds and you just can't pick the right product to sell.
That's where a product research tool (also known as a winning product finder) may help!
These tools assist you in finding the greatest products for your dropshipping business, referred to as "Winning Products." Not only do these dropshipping product research tools give you additional information like your competitor website link, winning ads creative and ad copy, saturation inspector and what not!
There are even product research tools that may aid you with things like competitor research as well as answering the question "What should I sell on my store?"
Some tools, for example, will show you which other stores are currently selling the goods you just discovered. You now have the upper hand and may tweak your store to outperform them!
Of course, you don't need a product research tool for this, but as you'll see below, they'll make things a lot easier!
Points to consider while looking for best dropshipping product research tool
Before you choose a product research tool, ask yourself the following questions:
Is it important to you to have a free trial or a free account?
What is your budget for a product research tool if you are going to spend money on it? If you already know this, you can skip the ones that are outside of the budget you've selected.
Do you wish to use tools to assist you in finding products? Or do you want a daily selection of a few hand-picked items?
Do you want a lot of filtering and sorting options when researching products?
Are you looking for some help with your Facebook targeting? (As you'll see later, several of these tools can help you with your targeting – as a starting point.)
You're ready to look at all the product research tools now that you have a general notion of what you're looking for. Let's take a look at them now:
List of Top 15 Dropshipping Product Research Tool
What we will learn about each dropshipping product research tool:
What is the purpose of that tool, important features it offers?
The cost of that tool right now.
Whether they provide any free trials? Free trails help you test the tool without investing.
For whom the tool is suitable? 
This way, you'll know which product research tool is perfect for your store and suits your budget. All links to the tool can be found in the list.
Let's get started!
This is my personal favourite out of practically all of the product research tools on this list.
If you've followed my blog before, you've undoubtedly seen me mention this product research tool, but if you haven't, now you will get to know.
Sell The Trend is a new dropshipping product research tool which itself has so many distinct tools that it will definitely blow your head! One of their product research tools, for example, is known as 'The Nexus'. Here you'll find a lot (like a LOT) of products:
You will undoubtedly gain a great deal of inspiration. What kind of things to sell, Facebook Ads examples, and Shopify dropshipping store examples are just a few examples!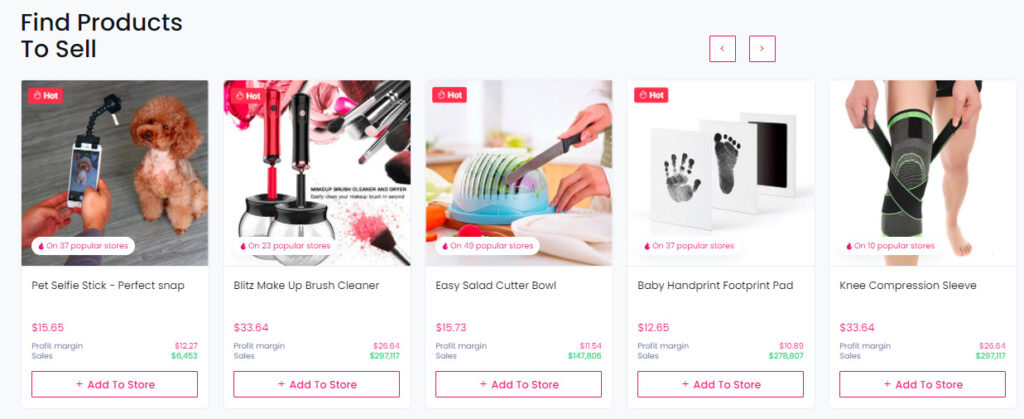 Latest Review of Sell The Trend – Easily Locate Winning Products
What is the cost of Sell The Trend, and is there a free trial available?
Sell The Trend is currently $39 per month, but if you pay yearly, you'll get two months free.
And, yes, they do offer a 7-day free trial for those who don't want to put any money on the line just yet!
Plan Features:
The NEXUS research machine
1-Click Push To Store
1-Click Order Fulfillment
Video Ads Creator
NEXUS Hot Stores & Products
NEXUS Trending Stores & Products
Dropship Product Explorer
Dropship Store Explorer
Favorite and Add Unlimited Stores
Store Intelligence Spy Tool
Facebook Audience Builder
Influencer Engagement Calculator
Aliexpress Trend Explorer
Ali New, Hot & Hidden Gems
Amazon Trend Explorer
Amazon New, Hot & Hidden Gems
Real Trend Charts
24×7 Support
This product research tool, in my opinion, is ideal for these individuals:
People who are unfamiliar with Facebook targeting. They have a wealth of information on who to target for you. You will undoubtedly get new knowledge.
Those who want to see a large number of product examples. On their product research tool, they add a lot of products. That is undeniable. So, if you're seeking for ideas or simply don't know what to sell, Dropship Spy may be able to assist you further!
Dropship Spy is not a good fit for these people:
People who want to try out the service or sign up for a free account before paying. As previously stated, Dropship Spy does not provide a free trial or account. This isn't the product research tool for you if you don't want to purchase with your credit card.
People who seek more product research tools. Dropship Spy specialises in adding winning products for you, but if you're more interested in gaining tools to identify products on your own (hopefully with less competition), then Niche Scraper or Sell The Trend are worth a look.
What is the cost of Dropship Spy, and is there a free trial available?
Dropship Spy is now available for $20 per month. There is now only one pricing option available (before they had three different ones).
They do not, however, provide any free trials.
This product research tool is ideal if you want to perform some more investigation to locate things that aren't yet widely available.
They do, however, offer the option of following their hand-picked products.
The free account option is ideal for those who are currently on a limited budget.
The only catch is that it has significant drawbacks:
It is, however, one of the most affordable dropshipping product research tools available, thanks to my discount code!
That gets me to my second point: it's one of the cheapest product research tools on the market right now if you use my discount code.
So, to whom do I suggest this tool?
People on a tight budget who need a product research tool but can't afford to pay $40 or more per month. The cost of Niche Scraper is only $18 per month!
People who do not have the financial means to invest in product research instruments. Simply sign up for a free account with them!
Also, for those looking for tools to assist them find ideas for what to sell and how other Shopify (dropshipping) sites appear!
PowerAdSpy is a web-based ad spying software that collects ads from a variety of advertising channels, including Facebook Ads, Youtube Ads, Google Ads, and more!

Usability
Power Ad Spy may be used to swipe, learn, and model existing ads and campaigns in a variety of areas. You may use it to quickly locate viral advertisements, ads with a lot of engagement, and more!

Cost
Power Ad Spy offers a free trial that requires no credit card information. You can use this sample to get a feel for the software. Subscriptions to Power Ad Spy can be paid monthly or annually. Prices begin at $49 per month.
AliShark is up next. Hurrify!, the popular countdown timer Shopify app, is the makers of AliShark.
When searching for products on AliExpress, AliShark is ideal for those who want a variety of filter options (or Banggood).
And when I say a lot, I really mean a lot! Consider the following scenario:
If you want to undertake keyword research, they have a lot of possibilities for you. You have the option of including or excluding keywords.
I can, for example, use the keyword 'Dog':
Then I realise I don't want to sell any "Bowls," so that keyword is removed:
If you're interested in learning more about AliShark, check out my review:
AliShark Review (2021) – Best Product Search Tool for Dropshippers?
What is AliShark's price, and do they provide a free trial?
AliShark is now $20 each month, and there is no option to pay yearly at this time.
However, they do offer a $1 two-day trial.
Poppin Font SIze:16 Black Color
SaleSource is the next greatest dropshipping product research tool, and it's one of the most comprehensive solutions on the market right now. If you go to their webpage, you'll notice that they have a lot of tools available.
You can uncover top-rated suppliers, profitable items, and competitive data in one dashboard using their technologies. The platform concentrates on the United States, so you may dropship any product from China to the country in just 7 days.
SaleSource is an all-in-one research tool for dropshipping products.
You can also see the best suppliers for each top product, as well as daily trending items that will sell out before they get saturated. The tool integrates seamlessly with Shopify, giving you access to two of the most powerful dropshipping platforms.
Plans for pricing:
ESSENTIAL – $ 49 per month ($349 annually at a 60% discount) – 1 User, 100,000,000+ Winning Products, Daily New Trending Products, Competitor Intelligence, and Deep Shopify Store Analyzer
PRO – $ 99/month ($699/year for a 60% savings) – 1 user, all essential features, factory pricing, custom conversion training, and customised advertising training and support
ELITE – $ 299 per month ($2499 yearly discount of 60%) – All Pro features, up to 5 usage
eCom Profit Hub is a fantastic outsourcing platform. It has over a million items in stock that are ready to sell. You may easily add those things to your shopping site, and when the offer begins, they will receive their payment and delivery details in a timely manner.
So there's no need to be concerned about the back panel. You can devote all of your time to promoting your website. Furthermore, greater advertising entails more advantages. The use of eCom-Profit-Hub is completely free. eComProfitHub is undoubtedly the greatest arrangement for dropshippers who prefer not to enjoy back-end work and instead focus their efforts on marketing.
Ecomhunt promotes itself on its website as "a curation of the best new products, every day." In truth, Ecomhunt manually adds winning products every day, so you don't have to waste time and money on the wrong products.
Ecomhunt
Ecomhunt
Ecomhunt operates in this manner. It assesses whether goods are effective, then distributes them to paid members first, followed by free members after a few days. It gives paying members an advantage over free members by doing so.
Members are given the following information for each product on Ecomhunt:
Image/description of the product
Profits, RRP (Recommended Retail Price), costs, and margins are all factors to consider.
Inspector of saturation
Analytics
Facebook ad concepts and actual ads
Ideas for social media involvement
Buyers' feedback
Ideas for audience segmentation and targeting
Ecomhunt also offers training guides, webinars, blogs, and other resources, including Ecomhunt University and a vibrant Facebook group. You can also get a lot of help from other people in similar firms and use online chat tools. In a word, Ecomhunt is a well-researched tool that also serves as a wonderful platform for your dropshipping business.
Ecomhunt offers two pricing plans, which are as follows:
Free plan: You can use all of their award-winning products, but you'll have limited features and will have to wait for new ones.
$29/month for the Pro plan
D-Nicheur is the next product research tool on our list. Every day, they show you one or three new products (depending on which plan you choose).
I've included them on this list since they do things differently from other research tools that add hand-picked products every day (like Ecomhunt and Dropship Spy).
After evaluating between 200 and 500 products every week for their own stores in enormous "FB tests," the proprietors came up with the idea for D-Nicheur. However, they could only employ a few of the products that had potential.
They began giving out these excess products in their Facebook group, but the response was so positive that they decided to form D-Nicheur.
They collect all the products that they couldn't utilise themselves in D-Nicheur. They presently show you an example of a product provider, a store that is currently selling that product, and an example of a Facebook Ad for each product.
Three products that they added as an example
They started in the French market, as you may have guessed from the name, but are now trying to expand the tool to the rest of the world.
What is D-price, Nicheur's and do they provide a free trial?
D-Nicheur is now available for $20 per day for one product or $30 per day for three products.
There is currently no trial or return period available.
The next dropshipping product research tool will assist you with competitor research as well as product research for your dropshipping store. Commerce Inspector is the name of the programme.
On an eCommerce store, this extension allows you to see the best-selling products, Facebook ads, monthly site visitors, and more.
They've also incorporated a new function called trends.' Here are some of the most popular dropshipping topics and products:
Dropshipping is an example of a trend that can assist you in finding products.
Isn't it great for product research?
What is the cost of Commerce Inspector, and is there a trial available?
Commerce Inspector's Chrome plugin is free to use, although it only has limited data.
Check out their rates below if you want unlimited data:
Commerce Inspector's pricing page
And, as you can see in the screenshot above, they do offer a $1 three-day trial.
Let's keep on with this long list with ProfitBusters, a product research tool.
ProfitBusters is a Print on Demand research tool that reveals the most popular designs from some of the most popular POD businesses.
You'll be able to look at designs that are currently selling well and replicate them on t-shirts, mugs, necklaces, flags, blankets, shoes, and other items.
Keep in mind that you cannot imitate the design; it is intended to help you understand a specific niche or design style that is currently popular. Please don't utilise any copyrighted stuff, just like you wouldn't if you were dropshipping.
With so many areas to choose from (regardless of your niche), the possibilities for inspiration are endless:
ProfitBusters reveals the ad, the business (along with their other running advertisements), targeting interests for easy integration into Facebook Ad campaigns, and proposed selling pricing for each winning design.
You may also use the search links to look for more designs on Amazon, AliExpress, Pinterest, Etsy, eBay, and Google.
Here's an illustration of what that may look like:
What is the cost of ProfitBusters, and is there a free trial available?
ProfitBusters costs $30 each month, but you can save money if you pay in advance for numerous months:
ProfitBusters does not presently provide a free trial, however, they do have a 'Freebies' section where they show you current winning ad samples (updated every two days) with restricted main features:
The next item on this list of product research tools focuses on eCommerce in general rather than just dropshipping.
Don't get me wrong: this isn't a negative thing! They're known as the All factor.
All factor is a competitive analytics platform for eCommerce that gathers billions of useful eCommerce data from a variety of sources, including Shopify, Amazon, Walmart, Etsy, and others.
They offer millions of data insights to assist you in comprehending the entire market. It currently monitors over 1,300,000 of the most popular Shopify stores.
They also assist dropshippers by identifying rising trends and new consumer preferences in order to help you improve your marketing campaign approach.
What is the cost of Allfactor, and is there a free trial available?
Allfactor is now available for free or at $19 per month. They do have a business plan, but it's unlikely that you'll use it.
As you can see, they don't provide a trial, but they do offer a free account with restricted data access, which you may use to assess if this tool is right for you and your business!
14. AliExpress Dropshipping Center - Free AliExpress research
AliExpress Dropshipping Center is a terrific free tool for researching one of the most popular dropshipping sites. Hot Selling, Search by picture, and Sponsored Products are three amazing features of this tool that you should absolutely check out.
The best research tools for dropshipping products include AliExpress Dropshipping Center – a free AliExpress research tool.
You can filter the Hot Selling section by certain niches, shipping destinations, and delivery time to find the most popular dropshipping items. This will undoubtedly give you some ideas for new things to add to your business. On this dashboard, you may also look at the number of orders, sale performance, and sales volume.
You can use AliExpress's Search by Image tool to look for products using images saved on your computer. The Sponsored Products section, on the other hand, lists the top stores with positive evaluations that are looking for dropshippers.
The selections are simple, but given that you're dealing with providers who don't understand English, the information is sufficient to make a decision. This is unquestionably one of the top dropshipping product research tools on AliExpress if you're interested in practising dropshipping.
Plan of Payment:
With simply an account, you can utilise it for free (This can be the account to shop on AliExpress too).
Thieve.co will show you what's hot on AliExpress and provide you with plenty of ideas for product research. You only need to create a free account, and Thieve.co will show you some really cool AliExpress products. You may also filter products by category to see what's available in your specialty.
Thieve.co used to solely offer a free version, but now it also offers a dropshipping service called Thieve Supply. From the "interior," Thieve Supply looks like this:
Thieve.co
Thieve.co
As you can see, it displays a wide range of products. The products can then be sorted using a variety of filter choices, including categories, sales, trending products, and so on.
The free version of Thieve.co is obviously free, and the dropshipping version (Thieve Supply) costs now $29 or $99 a month. You can save 20% by paying annually.