Are you an importer or exporter trying to understand how to register on ICEGATE and how to use it? Here is what you need to know about ICEGATE.
ICEGATE stands for the Indian Customs and Central Excise Electronic Commerce or Electronic Data Interchange Gateway. It is a national portal of the Indian Customs under the Central Board of Indirect Taxes and Customs (CBIC), providing e-filing services to importers, exporters, trade and cargo carriers, and other trading partners electronically.
Why you should register on ICEGATE?
Let us understand why one needs to register with ICEGATE. As an exporter or importer, you need to register on ICEGATE to conduct important activities such as electronic filing of the Bill of Entry for import declaration, electronic filing of the Shipping Bill for export declaration, e-payment of custom duties, electronic IGST refund filing for import and export, and filing of the Import and Export General Manifest.
Documents required for ICEGATE Registration
Registration in ICEGATE is done for export, import, Import General Manifest, Export General Manifest, and Consol Manifest. A single ICEGATE registration suffices for transactions at all or any EDI customs port. Documents can be uploaded to ICEGATE through email or as an attachment in one of the specified formats.
To register on ICEGATE as an IEC holder, you will need the following documents:
Scanned copy of any one of the ID proofs: driving license, passport, Aadhaar card, voter ID card (in PDF format).
IEC certificate.
Valid email ID.
Valid mobile number.
Class 3 digital signature certificate.
ICEGATE Registration Process
Now, let's talk about the registration process. Here are the steps you need to follow:
1. Go to icegate.gov.in and look for the "User Login" or "Sign Up" link on the homepage.
2. Enter the ICEGATE ID of your choice and your email ID. Check for its availability.
3. Select the user role. If you already have an IEC, select "IEC Holder" and enter the IEC. Verify your details.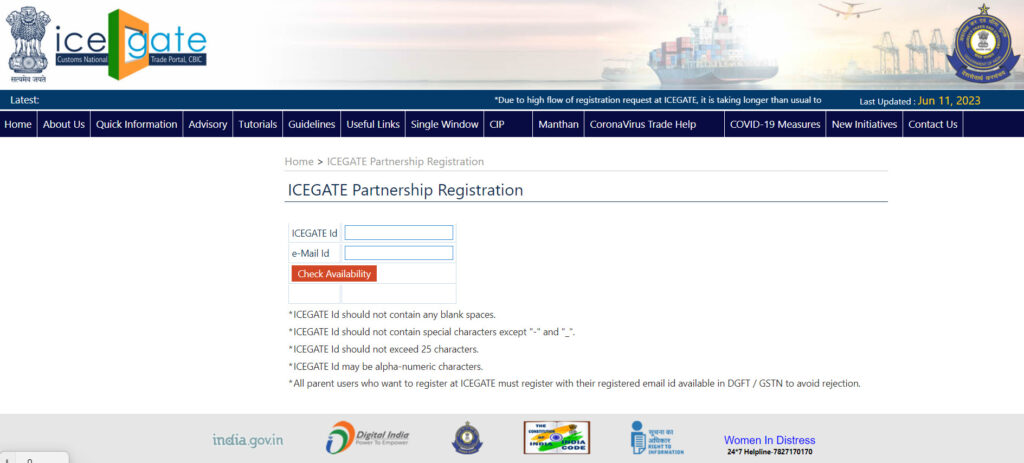 4. In the next window, enter all the registration details and upload the required documents. Upload your digital certificate and click on the "Confirm" button.
5. An OTP will be sent to your registered email ID. Enter the OTP to complete the registration process.
6. After submitting the registration, you will need to wait for your registration request to be approved by the department.
ICEGATE serves as a centralized platform for various stakeholders involved in international trade, including importers, exporters, customs brokers, shipping lines, airlines, and regulatory agencies. It enables electronic filing, processing, and tracking of customs documents, thereby streamlining trade procedures and promoting efficiency and transparency in cross-border transactions.
The key objectives of ICEGATE are:
1. Electronic Filing: ICEGATE allows importers, exporters, and other stakeholders to electronically file customs-related documents, such as the Bill of Entry for imports, Shipping Bill for exports, and other declarations and forms required for customs clearance.
2. Customs Clearance: It facilitates the processing and clearance of customs documents by customs authorities. ICEGATE enables online submission, verification, and assessment of documents, leading to faster and smoother clearance processes.
3. Electronic Payments: ICEGATE provides a secure platform for electronic payment of customs duties, taxes, and other charges associated with import and export transactions. It offers various payment options, including net banking, credit cards, debit cards, and electronic funds transfer.
4. Data Exchange: ICEGATE enables electronic data interchange among different stakeholders involved in international trade, including customs authorities, regulatory agencies, shipping lines, airlines, and port terminals. It promotes the exchange of standardized data and facilitates seamless information flow across the trade supply chain.
5. Risk Management: ICEGATE incorporates risk management techniques to identify and target high-risk shipments and facilitate the smooth clearance of low-risk shipments. It employs advanced analytics and data mining to assess the compliance and risk profiles of importers, exporters, and other participants in international trade.
6. Trade Facilitation: ICEGATE aims to simplify and streamline trade procedures, reduce paperwork, and enhance transparency in customs operations. It supports initiatives such as the Single Window Interface for Facilitating Trade (SWIFT) and promotes interoperability with other government agencies to facilitate seamless trade transactions.
Poppin Font SIze:16 Black Color
Q. How much time does it take for approval to come?
A. The total process can take up to 10-12 working days provided one has all necessary documents ready.
Q. What is ICEGATE helpline number?
A. For any query, you can call on the toll-free number 1800-3010-1000
Q. I applied for ICEGATE, but I am getting the error "Email id and contact number should be mentioned in DGFT and GST column". What does this mean?
A. You have to use email or contact no which is registered on DGFT or GSTIN portal
Q. Which type of DSC to be used? Is it class 3 encrypted, normal or DGFT signature?
A. DSC should be of Class 3 individual encrypted or DSC applicant name, do not use DGFT DSC.
Q. What is the Authorization letter format for ICEGATE Registration?
There is no particular format for the Authorization letter. You have to mention. On your company letterhead. That we are so and so company and we want to. Register on Icegate. And we are authorizing this person (Mention the name of the person).
If it is a partnership company then Signatures of both Directors are required.
Let us know your feedback on this article "ICEGATE Registration Process" in the comments below 👇
Sunil Kumar Sah @DigitalSunilSah 
Sunil is an E-commerce Seller, Blogger, YouTuber and Digital Marketer. He is a digital enthusiast and passionate about Online Selling. He loves sharing his knowledge and experiences on eCommerce in this blog and on his Hindi YouTube Channel "Ecommerce with Sunil" and the English Channel "Ecomsprint"