In today's digital era, the demand for online learning has skyrocketed. Whether you're an educator, expert, or entrepreneur, selling online courses can be a lucrative opportunity. However, finding the right platform to host and sell your courses can be a daunting task. That's why we've compiled a list of the best platforms for selling online courses, taking into account their features, advantages, monthly plans, and overall suitability for different needs.
Udemy is one of the most popular online learning platforms, offering a vast marketplace with millions of students worldwide. It allows instructors to create and sell courses on various subjects. Here are some key features and advantages:
Features:
User-friendly course creation tools with support for video, audio, and text-based content.
Extensive course promotion and marketing opportunities within the Udemy marketplace.
Instructors have control over pricing, promotions, and student engagement.
Access to a large student base and the potential for high course sales.
Pricing: Udemy operates on a revenue-sharing model, where instructors receive a percentage of the course sale price. The revenue share varies based on how students discover the course (instructor coupon, Udemy organic, or paid advertising).
Teachable is a comprehensive platform that empowers course creators to build and sell their own branded online courses. It offers a range of customization options and marketing tools. Here are its prominent features and advantages: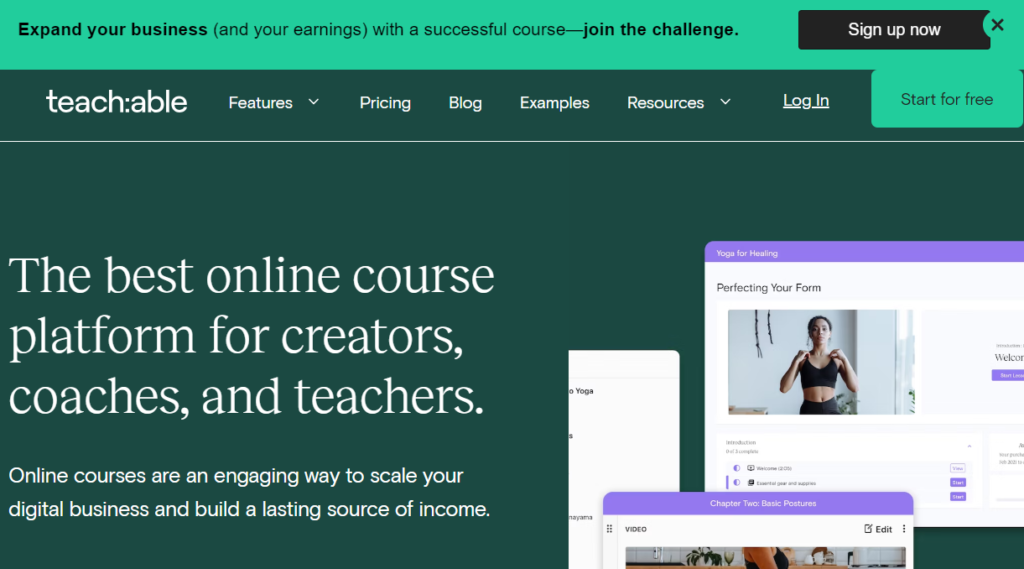 Features:
Simple and intuitive course creation interface, allowing you to structure your content as you see fit.
The ability to create sales pages, landing pages, and a customized website for your courses.
Multiple pricing options, including one-time payments, subscriptions, and payment plans.
Advanced analytics and reporting to track student progress and course performance.
Pricing: Teachable offers three pricing plans: Basic ($29/month), Pro ($99/month), and Business ($249/month). The higher-tier plans provide additional features like advanced customization, student enrollments, and more.
Thinkific is a robust online course platform that caters to both beginners and established course creators. It offers a wide range of features and customization options. Let's explore its key features and advantages:
Features:
Drag-and-drop course builder for easy content creation.
Ability to create multimedia-rich courses with videos, quizzes, surveys, and discussions.
Options to sell courses individually, bundle them, or offer subscription-based pricing.
Built-in marketing and promotional tools to attract and engage students.
Pricing: Thinkific provides four pricing plans: Free, Basic ($49/month), Pro ($99/month), and Premier ($499/month). The paid plans unlock advanced features like priority support, course memberships, and white-labeling.
Kajabi is an all-in-one platform designed to create, market, and sell online courses, membership sites, and digital products. It offers a comprehensive set of features and a user-friendly interface.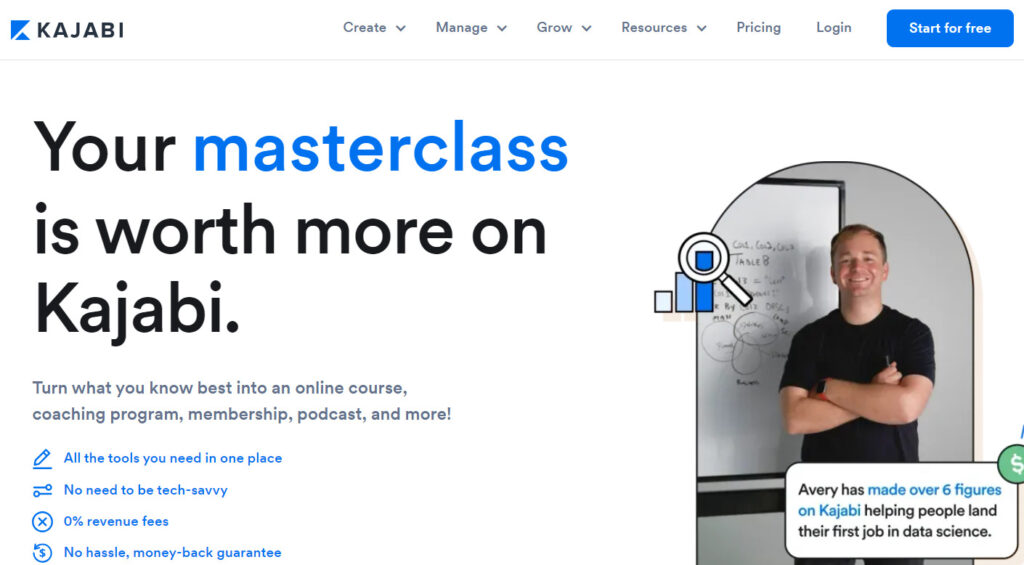 Features:
Course creation tools with options for video, audio, and text-based content.
Ability to build sales funnels, landing pages, and customized websites.
Marketing automation and email marketing capabilities.
Integrated payment processing and analytics.
Pricing: Kajabi offers three pricing plans: Basic ($149/month), Growth ($199/month), and Pro ($399/month). The plans provide varying levels of features and customization options.
Podia is a versatile platform that allows you to create and sell online courses, digital downloads, and memberships. It emphasizes simplicity and ease of use for both course creators and students.
Features:
Course creation with multimedia support and drip content scheduling.
Built-in email marketing tools and the ability to create landing pages.
Options for selling courses individually or as part of a membership bundle.
Affiliate marketing capabilities to boost course sales.
Pricing: Podia offers two pricing plans: Mover ($39/month) and Shaker ($79/month). Both plans provide unlimited courses, digital downloads, and members, with the Shaker plan offering additional features like embedded checkout and affiliate marketing.
LearnWorlds is a robust platform that focuses on creating engaging and interactive online courses. It offers advanced customization options and a range of tools for course creation, marketing, and sales.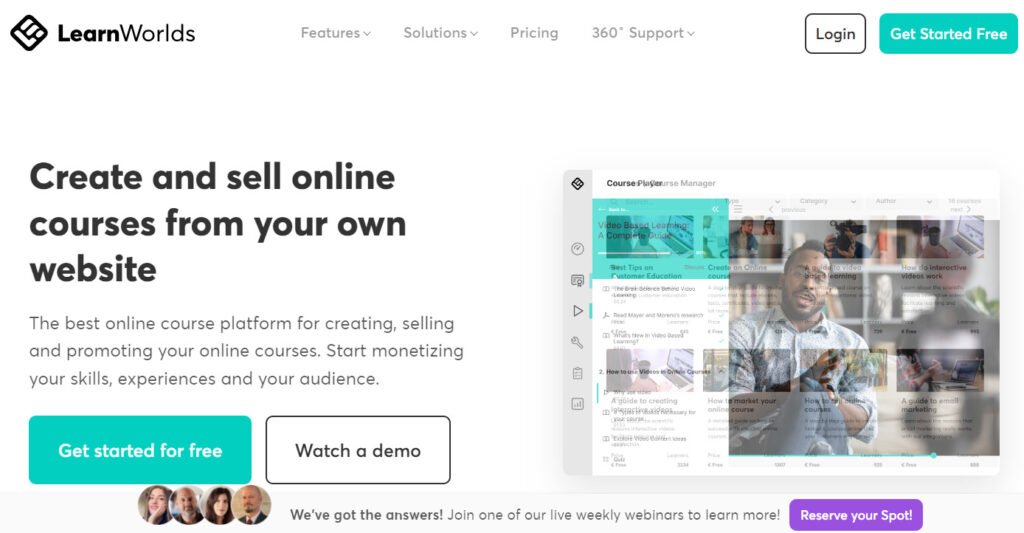 Features:
Interactive course creation with multimedia elements, quizzes, and assessments.
Customizable course templates and the ability to build branded websites.
Social learning features, including discussions and student collaboration.
Marketing and sales tools, including email automation and affiliate management.
Pricing: LearnWorlds provides four pricing plans: Starter ($24/month), Pro Trainer ($79/month), Learning Center ($249/month), and High Volume & Corporate (custom pricing). Each plan offers varying levels of features, support, and customization options.
Thinkific Pro + Growth Package: Website: www.thinkific.com
While Thinkific was already mentioned earlier, it's worth noting that the Pro + Growth Package deserves special mention for its comprehensive offerings.
Features:
All features included in the Pro plan.
Advanced segmentation and automation with the Thinkific Growth package.
Access to additional marketing tools, including webinars and promotions.
Priority support and additional site admin accounts.
Pricing: The Thinkific Pro + Growth Package is available for $99/month, on top of the Pro plan's monthly cost.
Conclusion:
Choosing the right Platforms for Selling Online Courses is crucial for your success as an online educator or entrepreneur. While Udemy, Teachable, and Thinkific are just three of the many excellent platforms available, they offer a solid foundation for hosting and monetizing your courses. Depending on your needs, budget, and desired level of customization, any of these platforms can be a great choice. Remember to consider factors like course creation tools, marketing capabilities, pricing flexibility, and the size of the platform's user base.
Before finalizing your Platforms for Selling Online Courses, explore these platforms in-depth, and assess how well they align with your specific requirements. By selecting the right platform, you can reach a global audience, maximize your course sales, and establish yourself as a successful online course creator.
Note: While these platforms are highly recommended, it's always advisable to thoroughly research and compare different options based on your unique needs before making a final decision.
Happy course creation and best of luck with your online teaching journey!