Welcome to our comprehensive guide on Udyam Registration! If you're an entrepreneur or a small business owner in India, you've come to the right place. Udyam Registration is a crucial step towards unlocking various benefits and government schemes for your business.
From access to priority sector lending to eligibility for subsidies and incentives, Udyam Registration can give your business the boost it needs. But we understand that navigating through the registration process can be overwhelming, especially if you're unfamiliar with the online portal. That's why we've created this step-by-step guide to help simplify the process and ensure a hassle-free experience. So let's dive in and explore how you can register your enterprise under Udyam effortlessly!
(Note: Remember that registering as a micro, small, or medium enterprise under Udyam is mandatory for those who meet the specified criteria set by the government.)
UDYAM Online Portal: Making Udyam Registration Hassle-Free
The online portal for Udyam Registration is designed to streamline the entire process and make it user-friendly. To get started, you'll need to visit the official website and create an account. Once you've registered on the portal, you can access a range of services related to Udyam Registration.
Navigating through the portal is fairly intuitive. You'll find clear instructions guiding you through each step of the registration process. The forms are straightforward and easy to fill out, ensuring that even those with limited technical knowledge can complete them without any hassle.
One important aspect of the online portal is its ability to validate your Aadhaar card details directly from UIDAI's database. This eliminates any chances of errors or discrepancies in your personal information, making the registration process more efficient.


Additionally, the online platform has built-in validation checks that prevent common mistakes during form submission. It prompts users if any mandatory fields are left blank or if there are formatting errors in entered data, reducing chances of rejection due to incomplete forms. Exploring and using the online portal for Udyam Registration makes the entire process much more convenient and accessible for entrepreneurs across India. With its user-friendly interface and helpful features, registering your enterprise under Udyam has never been easier!


Documents Required for Udyam Registration
When it comes to registering your business under the Udyam Registration process, there are certain document requirements that you need to keep in mind. These documents play a crucial role in establishing the authenticity and legality of your business. Let's take a look at what you need to prepare.


Looking for GST Returns Filing Service? Reach Us Here
1. Aadhaar Card: One of the key documents required for Udyam registration is your Aadhaar card. This serves as proof of identity and is mandatory for all individual entrepreneurs or owners.


2. PAN Card: Along with the Aadhaar card, you will also need a valid PAN (Permanent Account Number) card issued by the Income Tax Department. This helps in identifying your tax obligations and ensures smooth compliance.


3. Bank Account Details: You will be required to provide details of your bank account, including the name of the bank, branch address, and account number. This information is necessary for financial transactions related to your business.


4. Business Address Proof: It is important to submit documents that prove the physical location of your business premises such as rent agreement, lease deed, electricity bill, etc.
5. Previous Registration Documents (if applicable): If you were previously registered under any other scheme like MSME, EM-II, or UAM before June 30th, 2020, then relevant registration certificates should be submitted during Udyam registration.


Remember that these are just some of the key document requirements for the Udyam Registration process. Depending on various factors such as nature of the business activity and ownership type (proprietorship/partnership/company), additional documents may be required as per government guidelines."
Stay tuned for our next section where we'll discuss common challenges faced during the Udyam Registration process and their solutions!
Key Compliance and Renewal Considerations
Validity Period and Renewals: Once registered as a Udyam entity, it's important to note that this registration has a validity period of 10 years from its date of issue. After completing this duration successfully, timely renewal becomes crucial to maintain compliance with government regulations.
Updating Information: It is vital to keep your registered information up-to-date throughout your journey as an MSME under Udyam registration. Any changes related to ownership structure, address details or nature of operations should be promptly updated on the official portal.
Compliance with Regulations: While enjoying various benefits such as access to credit facilities at lower interest rates, tax rebates/subsidies/exemptions etc., it is equally important to comply with regulatory requirements like filing annual returns or financial statements within specified timelines.


Remember that staying compliant not only helps your business avail various benefits but also establishes trust among stakeholders while enhancing credibility in today's competitive market landscape.
UDYAM Registration Process
Udyam registration is a crucial step for small businesses in India. It enables them to avail of various benefits and schemes provided by the government. The process of Udyam registration is simple and can be done online.
Step 1 – You need to visit the official website for Udyam registration by clicking here.
Step 2 – Click on the 'New Registration' tab on the Home Page. You will get an Udyam registration form.
Step 3 – Enter your Aadhar card number and your Name as per Aadhar, then validate them by entering the OTP received on your mobile number.
Step 4 – Select your type of business or Organisation. Enter the business PAN number attached to your business accounts.
Step 5 – Fill in all other relevant details in the form. Double-check every piece of information before submitting the registration form.
Step 6 – Submit and validate your Udyam registration form by entering your mobile number and the OTP received on it.
Step 7 – After successful registration, you will receive a 'Thank You' message on your mobile number and e-mail ID, along with your Udyam registration number.
Step 8 – You can then download and print your Udyam Registration Certificate.
Once the registration is complete, they will receive a unique Udyam Registration Number (URN) and a certificate.
The Udyam certificate serves as proof of registration under the scheme. It contains important details such as the URN, name of the entrepreneur, address of the enterprise, and date of issue. This certificate is necessary for availing benefits like subsidies, loans at lower interest rates, access to government tenders, etc.
Poppin Font SIze:16 Black Color
Common Challenges and Solutions in Udyam Registration Process
Poppin Font SIze:16 Black Color
Poppin Font SIze:16 Black Color
How to Download Udyam Certificate
The Udyam certificate proves your business has been registered under the Udyam Registration portal. The Udyam certificate is an official document that showcases essential details about your business, including its name, address, and registration number. It acts as a validation of your existence and helps build trust among potential clients and partners.




Obtaining the Udyam certificate is a straightforward process. Once you have successfully completed your Udyam registration online, you can download the certificate from the Udyam Registration Certificate Download section on their website. Make sure to keep this document safe as it may be required for various purposes such as bidding for government contracts or availing benefits under different schemes.


FAQ on Udyam Registration Process
1. What to do if I forgot Udyam Number? How can I download it?
If you have forgotten your Udyam Registration Number, you can follow these simple steps to retrieve it:
• Go to the official Udyam Registration portal at https://udyamregistration.gov.in/
• Click on the "Forgot Udyam Registration Number" link on the homepage.
• You will be taken to a new page where you need to provide some information.
• Fill in details like your Aadhaar Number or PAN Number, along with the mobile number or email address you used for Udyam registration.
• Click on the "Validate & Generate OTP" button.
• An OTP (One-Time Password) will be sent to your registered mobile number or email address.
• Enter the OTP you received in the appropriate field on the webpage.
• After entering the OTP, click on the "Validate OTP" button.
• If the OTP is correct, your Udyam Registration Number will be displayed on the screen.
• Note down your Udyam Registration Number for future reference.
Poppin Font SIze:16 Black Color
Poppin Font SIze:16 Black Color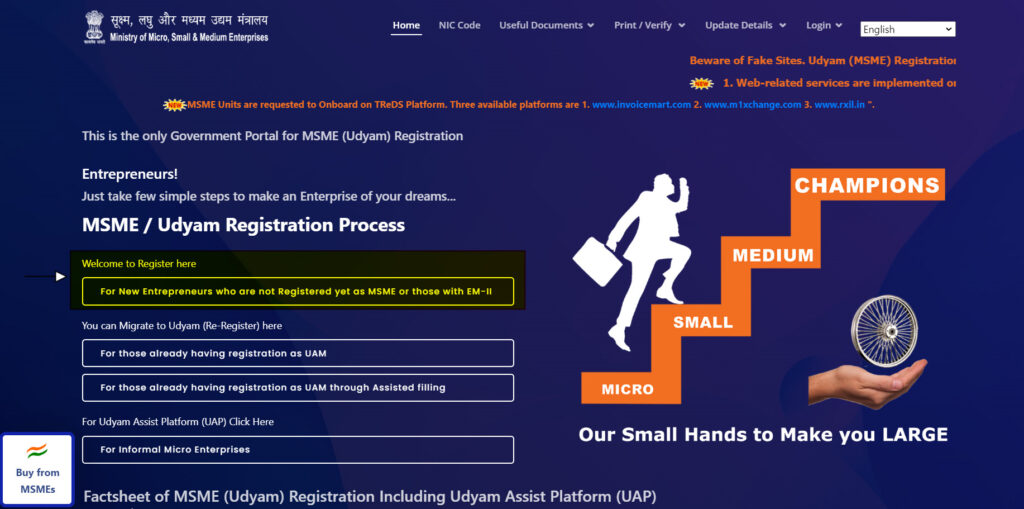 Poppin Font SIze:16 Black Color
Common Challenges and Solutions in Udyam Registration Process
Poppin Font SIze:16 Black Color
Let us know your feedback on this article "" in the comments below 👇
Sunil Kumar Sah @DigitalSunilSah 
Sunil is an E-commerce Seller, Blogger, YouTuber and Digital Marketer. He is a digital enthusiast and passionate about Online Selling. He loves sharing his knowledge and experiences on eCommerce in this blog and on his Hindi YouTube Channel "Ecommerce with Sunil" and the English Channel "Ecomsprint"