Table of Contents:
Concept of eCommerce Warehousing
What is Ecommerce Warehouse Management?
Guide to choosing the right Warehouse Management System (WMS)
While warehouses have been used since the second century BC in Rome (for storing grain, olive oil, wine, food, clothing, and marble), the concept of an eCommerce warehouse is relatively recent.
Online businesses rely on efficient warehousing to enable future growth in the ecommerce market, which is a highly competitive space.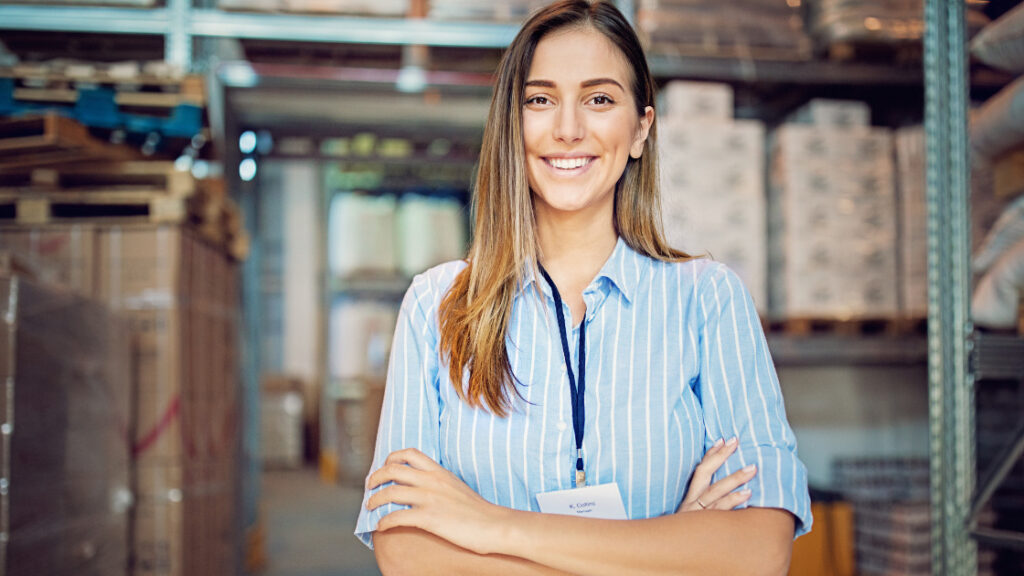 eCommerce warehousing, on the other hand, becomes far more complicated each time your organization reaches a new inflexion point. You may face any of the following challenges as you progress through the phases of development:
You've outgrown your first storage unit.
Have an excessive amount of safety stock that must be stored in an overflow location
You can either buy land or rent a warehouse.
Invest in the eCommerce warehouse's fulfilment infrastructure, including personnel, technology, certifications, shipping supplies, forklifts, conveyors, and other equipment.
Introduce new sales channels and require inventory management skills across several channels.
Reduce travel times and shipping costs by opening or expanding a second fulfilment centre.
Expand your worldwide fulfilment capabilities and establish yourself as a global brand.
There is no one-size-fits-all approach for brands, and there are numerous factors to consider when determining the best eCommerce storage solution for you, and selecting one that won't need to be changed within months (or even years).
What is Ecommerce Warehouse Management?
The storing of tangible things sold online is referred to as eCommerce warehousing. Common operations in an eCommerce warehouse or fulfilment centre include:
Taking necessary safety and security precautions when storing inventory
As inventory arrives in your eCommerce warehouse, you must receive and store it.
Managing each SKU's bin, shelf, and/or pallet positions for optimal warehouse slotting
Performing inventory and warehouse audits
Keeping track of stock levels and generating inventory reports
Inventory turnover and stock availability are being closely monitored.
Reordering additional items ahead of schedule to avoid stockouts
Inventory holding and operating costs are the two most significant operational expenses for eCommerce enterprises. You can't merely lower your operational costs for the sake of profitability without considering the ramifications.
Rather, incorporating a warehouse management system (WMS) that increases warehouse performance is one approach to increase your profit margin. Running productive warehouses is less expensive, giving you more money to invest in building your eCommerce business.
eCommerce Warehouse Layout
Choosing the Right eCommerce Warehouse Management System:
Choosing the Most Appropriate Warehouse Management System for Your Ecommerce Company
When selecting a WMS for eCommerce Retail or B2B, there are few factors to consider.
It's critical to select the correct warehouse management system (WMS) for eCommerce because it might make or break your business. If you choose the wrong one, you could end up spending a lot of money on a system that can't manage your needs.
It's not easy to choose the best WMS for your eCommerce business. You'll have to find out which features are most important to you and your company. Do you know what you should look for in warehouse software? Isn't there something to be said about distinguishing between systems?
Price isn't the most important consideration; a high-priced warehouse management system may not be the greatest option for your company, but it may provide the best return on investment. Here are a few crucial characteristics to look for in a good warehouse management system while making your decision:
1. Accuracy from the start will save you time and money in the long run
You must be precise at all times. You wish to have a small number of errors per order line. For retailers, this is a key WMS inclusion. Your warehouse management system (WMS) must accurately record inventory transactions with the fewest possible errors. By double-checking this crucial component, you will save yourself time and effort in the long run. For that item, one incorrect number can spread over your entire store network.
To get your personnel up to speed, the WMS you choose should be accompanied by great partner training. This is especially significant when you need to hire temporary labour due to high periods. Furthermore, the system must be user-friendly and straightforward to use, allowing all team members to adopt it without stress or error.
Ecommerce is a big pond, and there's plenty of area for you to expand; yet, if you want to compete with the bigger fish, you'll need to be able to scale up. It's critical to choose a WMS that can grow and expand with you, especially in the ever-changing world of eCommerce. Consider your partner's longevity, their devotion and attitude toward technology and improvements, and their local and global reputation.
Many businesses are in one of two situations: they either don't have any data to work with, or they have a lot of data but don't know what to do with it. For successful forecasting and planning, data integrity is critical. The correct WMS will provide you with a plethora of detailed reports on which to base your judgments.
5. Keeping track on Return on Investment
You'll need to know your numbers inside and out to establish a strong business case for a new eCommerce Warehouse Management System. Choosing the wrong WMS for your company could end up costing you far more than it saves you.
Integrations, customization, upgrades, maintenance, IT resources, and fixed additional licences are all hidden expenses in ostensibly cheaper warehouse management software.
6. Implementing Cloud based WMS
Choosing a cloud-based solution over an on-premise system is perhaps the simplest way to ensure cost-viability. Because the speculation and execution are significantly less expensive, you'll spend less on a cloud-based warehousing solution than you would on an on-premise system.
You'll have additional devices available to you on a regular basis without having to worry about equipment costs. Your cloud-based WMS supplier should keep your system up to date with the most cutting-edge features. You'll usually have the most up-to-date version of the system at that point, with no need to re-establish it.
7. Flexibility and Integration Possibility
Any other ERP software that you use will work easily with the correct WMS for an eCommerce firm. Finding a WMS that has a catalogue of current off-the-shelf connectors is an excellent decision. Flexibility is important in your WMS, but you want to spend as little time as possible creating integrations.
You can utilize advanced eCommerce warehouse management systems to implement advanced satisfaction approaches like moving wave arranging. The faster you can get inventory out of your warehouse, the faster you can replenish it.
Consider whether you want your WMS to integrate with your sales channels – whether you're a store or a supplier, your software should be able to adapt to each client's needs and include various delivery phases (dock to the warehouse, as well as last-mile delivery).
Each online retailer uses a different delivery carrier, so make sure your warehouse management system, as well as your stock, purchase order, and order preparation systems, are flexible enough to work with them.
9. Real-time data analysis and performance check
Warehouse data and disclosing from top to bottom allows you to make better inventory decisions. Because stock represents locked-up cash, an oversupply of stock can quickly harm a healthy organisation, creating both indirect and direct expenses.
Warehouse lease and utilities are two examples of immediate expenses. The expenditures you pay to move that stock are an example of erroneous costs.
Ecommerce Warehousing Best Practices
Poor eCommerce warehousing operations can cause brands to waste money and potentially cause orders to be delayed. Proper warehouse management adheres to the finest eCommerce warehousing principles, resulting in increased profits and a positive customer experience.
1. Take advantage of a warehouse management system (WMS)
A warehouse management system (WMS) is specialised software that allows firms to optimise their eCommerce warehouse by:
Providing real-time inventory and product availability information
From the factory to the distribution centre, managing and monitoring eCommerce supply chain activities is a must.
Inventory forecasting can help you figure out when your supply will run out.
Streamlining the eCommerce fulfilment process and increasing the efficiency of your business
Getting your eCommerce store to work together (and other tools)
Improving inventory management to detect stock availability in real-time, anticipate inventory more accurately, and set reorder points in anticipation of a shortage.
Check out popular eCommerce Warehouse Management Software and Services.
2. Make a distribution plan for your inventory
When you distribute your goods over many warehouses, you save money on shipping because orders are automatically prepared and despatched from the closest distribution centre to the customer. This can also benefit customers by allowing for speedier and more cost-effective delivery.
3. Try out a few different picking strategies to determine the one that works best for you.
Ecommerce enterprises can choose from a variety of choosing systems. To reduce the walking pathways and time it takes to pick an order, more complex tools can enable batch picking and auto-generate picking lists based on the proximity of ordered items to one another in an eCommerce warehouse.
4. Establish inventory minimums
It's never easy to strike the correct inventory balance. Ordering too many products can hurt a company's earnings and increase inventory carrying expenses, while ordering too few might result in out-of-stock notices and disgruntled consumers who go elsewhere. Setting obligatory inventory minimums is thus a wise precaution – a decent WMS will allow firms to set reorder points so that they may be notified when a product hits a certain threshold.
Because ecommerce warehousing can be challenging, your company will benefit from an effective eCommerce warehouse management to increase profitability and scalability.
Consider that you'll need supply chain experts on hand to manage fulfilment and create a fantastic customer experience when looking into warehousing options for your eCommerce firm.