If you are interested in starting a business offering goods and services online then Dropshipping is an appealing e-commerce model for anyone willing to put in the time and effort necessary to establish an online business.
There are a plethora of drop shipping models available online. Understanding the resources accessible to you is necessary for selecting the best model. Dropshipping, as most people knew refers to buying cheap goods on AliExpress (a Chinese online marketplace) and reselling them for a profit in Western markets was formerly a popular practice.
The extended handling times and shipping times, as well as the bad quality of the products from china, has made this a risky venture.
It's difficult to meet the customer demand who look for fast delivery along with good quality products. The present shipping time from China to the USA is 10-14 days if you use special line logistics.
Even if the supplier delivers the product to your customer in 2 weeks time, the likelihood is that they will include the company's logo or some Chinese texts on the packing, preventing you from receiving repeated business.
Spocket Dropshipping Reviews 2022
So, how can someone profit from dropshipping? Is it possible to make a living off of dropshipping? Yes, a profitable dropshipping business can be built; all you need is a supplier based in the USA who can provide you with quality goods and offer fast shipping.
In this review, we'll look at one such USA based dropship supplier called Spocket, an app that makes it simple to start dropshipping products directly from USA and EU based manufacturers to your customers.
In this Spocket Dropshipping Reviews we will discuss the features of Spocket, how it works, its pros, cons and whom it will benefit.
What is SPOCKET Dropshipping?
Spocket is a Shopify app that connects e-commerce entrepreneurs with suppliers and fulfilment facilities, making running an e-commerce firm easier.
Spocket is a dropshipping tool that works with WooCommerce and Shopify stores, two of the most popular independent retail platforms for e-commerce business owners.
With the help of Spocket, you can start your dropshipping business with just a few clicks. Spocket connects you with suppliers in the United States, the United Kingdom, and the European Union, as well as Australia and New Zealand.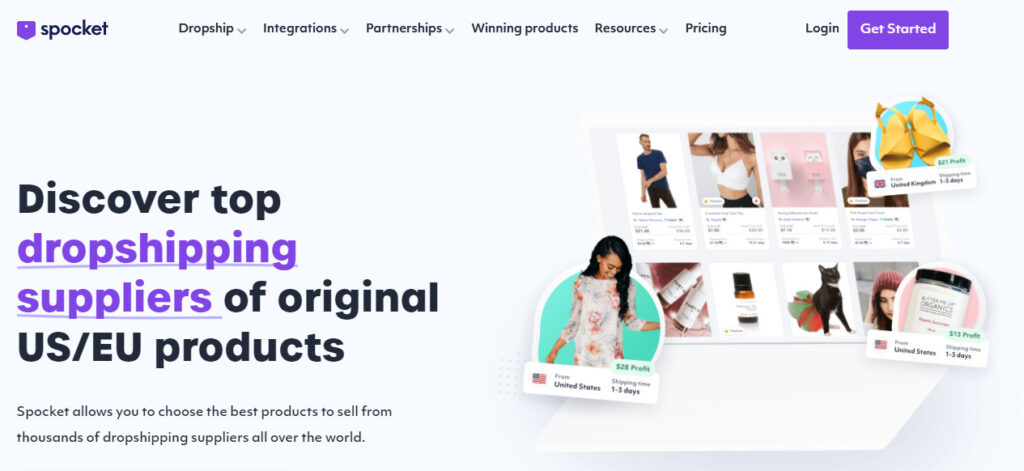 With Spocket, you can significantly reduce lead and delivery times by dealing with suppliers. Now you can feel satisfied that your clients will get products believing they are coming from your website/business rather than a third-party vendor.
On Spocket, there are thousands of ready-to-ship products accessible from suppliers across many western countries. You also get suppliers for print-on-demand products and personalized products.
Spocket also allows you to get samples from most of its suppliers, allowing you to test the quality before promoting the product for sale on your website.
All of the products available from Spocket suppliers are of high quality, unlike the quality you'll find on AliExpress and other Chinese websites that prioritise cheap over quality.
Spocket also negotiates savings on your behalf with suppliers. Discounts of up to 60% on retail pricing may be seen in few circumstances.
The major benefit of using Spocket is that your customer only has to wait a few days for delivery. There's no need to panic due to 4-week delivery times which irritates your customers and prompt them to request a refund.
Spocket take pride in choosing high-quality products from reliable suppliers, so you can spend less time searching for great product providers and more time stacking your online shop shelves with the things you want to offer to your audience!
There are a plethora of products to pick from, and Spocket allows you to curate a collection of them that you don't have to build, fulfil, or ship yourself while still selling high-quality and in-demand items. This increases the likelihood that your customers will be impressed with your brand, increasing the likelihood that they will return to your webiste for more.
1. Products Across 15+ Categories
You'll be able to choose between high-quality consumer goods and print-on-demand items after signing up for Spocket. If you want to sell general store products, you can start with various items. Search your product and find products in any of the following categories. 
Spocket has products across multiple categories including Clothes & Fashion, Technology and electronics, Car accessories, gaming equipment, Garden and Home, Toys for children and many more.
See what's available on the platform. To refine the results and find specific goods you wish to promote, you can use the keyword search box on the site.
On the search page, you can search for products based on keyword searches or different categories. You can search by price or even by location.
So let's say, for example, I wanted to search for a bracelet from the USA. I can change the location to USA type in 'Bracelet', and you'll see the results. In the filters, you will see the price as well as the shipping times and rates.
Now, of course, you do have control over changing this later. If you click on the product image, it'll bring up more important, details which will see the product description, shipping information, return policy and the product variants. Once you're satisfied that this is the product for your clicks on 'Add to Import List'. You can add the product to the import list from the search results as well.
2. Trending Dropshipping Products List
Check out these amazing dropshipping product research tools to find winning products quicker you don't need to reinvent the wheel and just need to find out what's trending and what's working out and just replicate that on your own store.
3. Multiple Platform Integration
Spocket offers seamless integration with multiple eCommerce platforms like Shopify, WooCommerce, Wix, BigCommerce, Square, Felex, etc.
To integrate these platforms with Spocket you can install the Spocket app or API integration. Once the setup is done you can start importing products to your store in just few clicks. 
4. AliScraper Chrome Extension
AliExpress Dropshipping Made Simple with AliScraper: It automates your dropshipping business by importing thousands of AliExpress dropshipping products into your online store with only one click, you may import data quickly. Import AliExpress dropshipping products without having to go back and forth.
With AliExpress, you can easily check delivery choices.
Simple package tracking and easy identification of courier solutions that work with your consumers.
Faster fulfilment of AliExpress Dropshipping orders
Spend more time on creating your brand and less time on the fulfilment cycle.
PROS OF USING SPOCKET FOR DROPSHIPPING
Spocket allows you to process hundreds of orders in a matter of seconds with a single click
Customer Service is available 24 hours a day, 7 days: A professional support team is accessible at all times to assist you with your dropshipping.

Reviews of Import Loox: Import AliExpress product reviews and photographs with ease.
Sunil Kumar Sah @DigitalSunilSah 
Sunil is an E-commerce Seller, Blogger, YouTuber and Digital Marketer. He is a digital enthusiast and passionate about Online Selling. He loves sharing his knowledge and experiences on eCommerce in this blog and on his Hindi YouTube Channel "Ecommerce with Sunil" and the English Channel "Ecomsprint"