Many eCommerce entrepreneurs are using or considering using dropshipping suppliers USA based, or US wholesale dropshippers and for good reason. Some very profitable online stores are growing with the help of top-tier US dropshipping suppliers. These are the types of companies where the owner would never have to deal with inventory or shipping, consumers receive high-quality, well-known-brand items delivered to their doorstep.
In almost every industry imaginable, there are now a plethora of credible domestic dropshippers to choose from. And dropshippers located in the United States have some distinct advantages over their Chinese counterparts.
Finding dependable suppliers is an important part of building a long-lasting company, whether you're dropshipping on Shopify, Amazon, eBay, or your own WooCommerce website.
Many vendors use sites like Alibaba and AliExpress, but there are some excellent dropshipping suppliers in the United States. Dropshipping suppliers in the United States will meet your needs, whether you simply want to help local wholesalers and shorten shipping times, or you're concerned about the effect of the coronavirus on dropshipping from China.
List of the top 10 Dropshipping Suppliers USA
Because of its commitment to high-quality goods, Spocket comes in first on dropshipping suppliers USA list. The company, which was established in 2017, is based in Vancouver, British Columbia, and has an A-rating from the Better Business Bureau. Up to 80% of Spocket's suppliers are located in the United States or Europe, and all suppliers must undergo a thorough evaluation and onboarding process.
You can easily sync your online store with Spocket if it's based on Shopify or WooCommerce. Both Shopify or WooCommerce customer orders can be automatically synced and displayed in the Spocket dashboard. From there, Spocket suppliers can handle anything from packaging to delivery. As a result, you'll be able to concentrate on more important tasks, such as promoting your company and attracting new clients.
Spocket's goods, for example, have a 30-60% discount off their normal retail price, which means better profit margins for you!
Spocket Dropshipping Plans and Pricing:
Free Plan
Starter Plan: $24/ month
Pro Plan: $49/ month
Empire Plan: $99/ month
SaleHoo has one of the world's biggest wholesale dropshippers databases. You can find wholesale suppliers from all over the world, including the United States, on SaleHoo.
Since SaleHoo is based in New Zealand, please be aware that not all of the dropshipping suppliers listed in their directory are based in the United States. Many of their suppliers are from the United States, but they also have suppliers from the United Kingdom, Canada, and Australia.
The platform includes attractive category tools for filtering and searching for items to sell, as well as a consumer search lab to assist you in finding fashionable and lucrative products.
Salehoo not only assists you in finding and connecting with the best dropshipping suppliers, but it also offers:
Salehoo Dropshipping Plans and Pricing:
Basic Plan: $27/ month
Premium Plan: $97/ month
You'll love DropCommerce if you want high-quality items. Every supplier at DropCommerce has been hand-selected for their high-quality, one-of-a-kind products and fast shipping.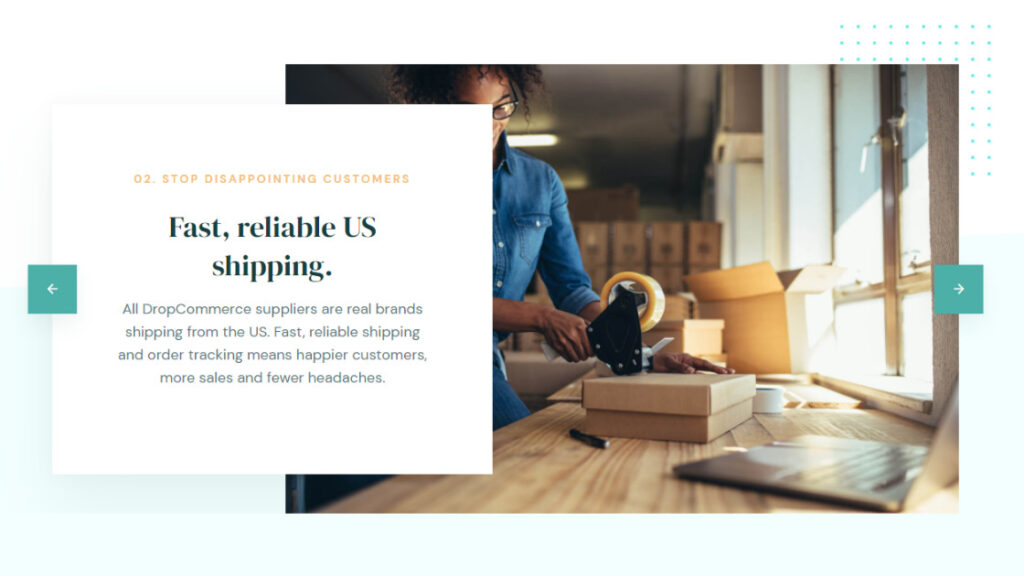 DropCommerce has a list of over 300 dropshipping suppliers, all of whom are located in North America, so finding USA dropshipping suppliers shouldn't be difficult. You can see the names of the vendors on the website, so you'll never have to wonder who's delivering products to your customers. It also includes free shipment monitoring on most orders, the ability to import goods into Shopify with just one click, and unlimited order support.
DropCommerce Dropshipping Plans and Pricing:
Basic Plan: $19/ month
Growth Plan: $49/ month
Professional Plan: $89/ month
Sunrise Wholesale, which was established in 1999, is one of the oldest wholesale dropshipping suppliers USA. More than 30,000 items from more than 20 different niches are available on the site.
Sunrise Wholesale also provides the option of selling their goods on Amazon or eBay if you don't want to sell on your own website. In either case, you'll have access to cool features like single-click order fulfilment, automated product updates, and analysing tools for pretty much any integration it provides.
Sunrise Wholesale's best feature is its top brand affiliation, which helps you to sell goods from top-tier brands like Sony, Apple, Panasonic, Dior, Versace, and others.
Sunrise Wholesale Dropshipping Plans and Pricing:
This Florida-based business, which was established in 1999, stands out for its importance. Worldwide Brands provides dropshipping services for over 16 million items in all categories.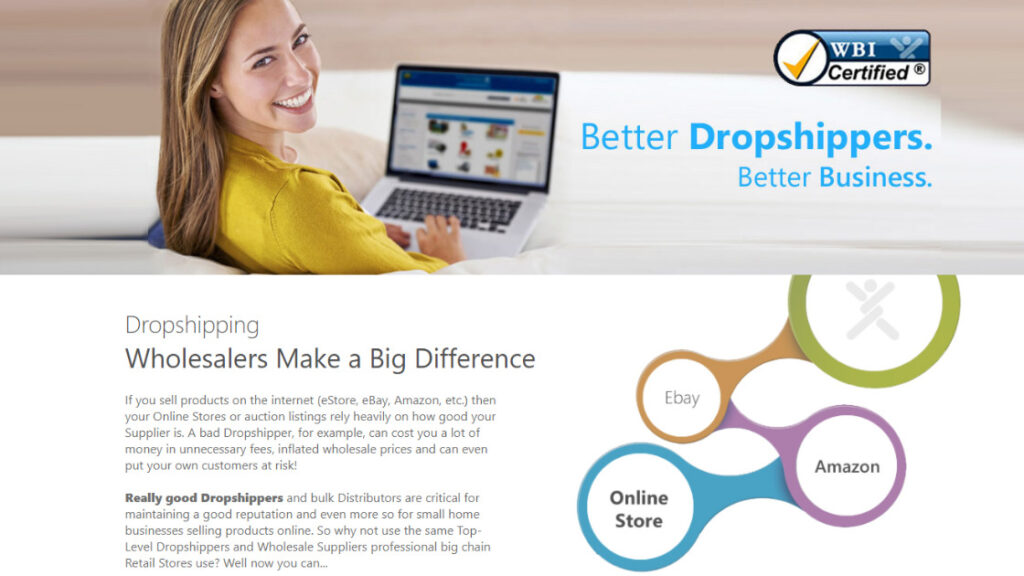 You won't be able to use automation or integrations, unfortunately. Light bulk wholesalers, on the other hand, allow you to buy smaller, more affordable quantities of goods while still receiving a discount.
WorldWide Brands, including Spocket and SaleHoo, verifies and approves each and every dropshipper listed in its database.
WorldWide Brands also offers one of the industry's most affordable money-back guarantees. The platform provides a 60-day money-back guarantee if you pay $299 up front. Furthermore, anybody who chooses the payment plan is covered by a 30-day money-back guarantee.
Sunrise Wholesale Dropshipping Plans and Pricing:
Doba offers a comprehensive catalogue of suppliers and wholesalers, as well as an interface for grabbing the goods you want without having to work with several dropshippers. As a result, it has developed into one of the most robust dropshipping platforms available.
Typically, you'll need to meet with ten to twenty dropshippers and form partnerships with them. With Doba, on the other hand, you simply select a product to sell, list it on your website, and let Doba handle the rest. The platform contacts the dropshipper and delivers the product to the consumer, eliminating the time-consuming task of managing dropshippers.
Aside from dropshipping, Doba also provides automation services and custom data export software, allowing you to bulk export goods for marketing.
Doba Dropshipping Plans and Pricing:
Start-up Plan: $24.99/ month
Business Plan: $49.99/ month
MegaGoods is the place to go if you just want to shop for consumer electronics and video games. Based in Los Angeles, California, and has only around 2,000 products, MegaGoods is hyper-focused on one niche, which compensates for the lack of goods.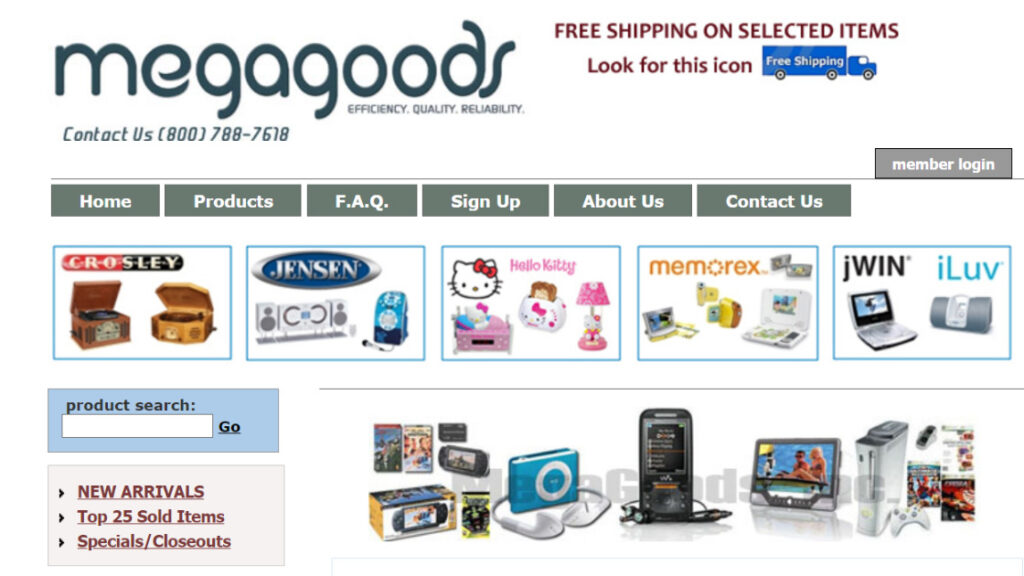 The platform's usefulness is limited by its lack of extensive search features. One of the most appealing features is that you will blind-dropship the products using your own brand name, so consumers are unaware that they are receiving items from a third party.
It has a strong delivery policy, with goods arriving in 1-2 days and all items being tracked. As previously mentioned, US dropshipping suppliers can provide a variety of shipping options through UPS, FedEx, or USPS, giving you more control over shipping costs. In addition, for a consumer electronics dropshipper, the return policy is very generous. For most goods, it offers a 30-day warranty against manufacturer defects from the date of delivery.
You can also export its products to your online store, but bear in mind that only a few file types are supported, so it may not work for you. Images are sent in ZIP format and must be manually sorted.
Mega Goods Dropshipping Plans and Pricing:
If you join, you'll have access to over 5,000 fashion pieces, all of which are delivered from a warehouse in Los Angeles, California. There are numerous pieces, ranging from tops to brooms, shoes to jewellery, each with a suggested sale price.
The platform provides free returns and low shipping rates, but they can currently only service customers in the United States, limiting your market.
If your online store isn't hosted on Shopify, you can pay $19 a month for the regular subscription on their website. Alternatively, you can subscribe to their Shopify app for $29 a month.
My Online Fashion Store Dropshipping Plans and Pricing:
$19/month for non-Shopify Stores
$29/month for Shopify Store owner
GreenDropShip is a dropshipping company based in the United States that provides resellers with over 20,000 food, organic, gourmet, and specialty goods to sell online. Shopify, WooCommerce, and marketplace merchants will import goods into their online stores, and we ship their orders directly to their customers from our facilities in Los Angeles, Dallas Fort Worth, and Pennsylvania.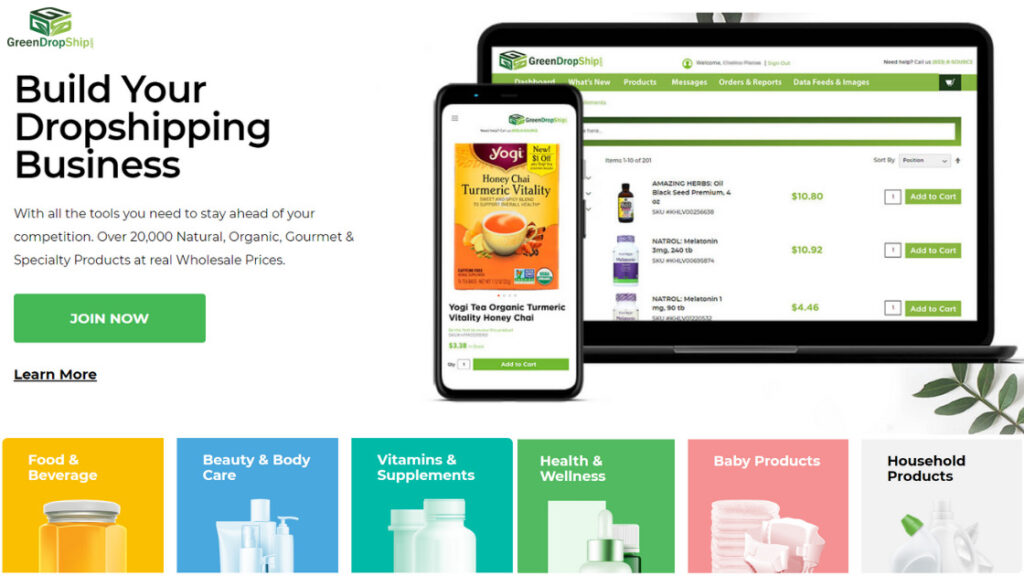 Greendropship's goods are manufactured in the United States to ensure the highest level of quality and protection.
There is no minimum order quantity. Members have the option of importing goods one at a time or in bulk.
Greendropship Plans and Pricing:
BryBelly is another dropshipping provider in the United States that sells existing brands as well as their own value goods. Sports, toys, beauty products, party equipment, sporting goods, kitchenware, hair extensions, casino supplies, and pet supplies are just a few of the items in the company's warehouse. You'll most likely find what you're searching for here once you've completed your product testing.
We can also send goods directly to your customers with your own personalised packing list if you need shipping services. Your buyers would have no idea that the goods were not sent directly to them.
BryBelly Plans and Pricing:
We're aware that there are a slew of other dropshipping companies based in the United States, and we'll be expanding our list to include more niches and product categories.
Please let us know if you're looking for a dropshipping supplier for a particular product or niche so we can find the right one for you. Plus, keep an eye on this article because we'll be adding more suppliers and information to the list on a regular basis! Thank you for taking the time to read this!