Product research is the foundation of dropshipping business and marketing is its soul. If it is not done correctly, it's more likely that you will lose money on advertisements. Good products combined with great marketing helps you find your winner quickly.
If you have tested more than 10 products and still couldn't find a winner then there is a great chance that you are not following the winning product research strategy. 
If you are a beginner,  you don't need to reinvent the wheel; just see what's working for others and replicate it. And for that you need to gather information about your competitors and there is no better platform than Facebook to spy on your competitors ads. 
So, Why is it important to spy on competitors ?
First, spying competitors ads helps you create profitable ads for yourself! 
Second, you get to know your competitor's marketing angles, their audience, locations, demographics, and interests; which kind offers and deals they present to their potential customers.
Third, you get ideas of what type of copy-writing and creatives actually work.
Finally, how long they have been advertising the product and audience reaction to the ads.
Fortunately, there are multiple tools available which make it ridiculously easy to see what your competitors are up to, so that you can replicate their success.
Below is the list of top 5 Facebook Ads Spy tools which you can use to spy on your competitors ads in 2020.
Top 5 Facebook Ads Spy Tools
BigSpy is a fantastic ads spy tool, which shows detailed advertising and marketing insights, from multiple platforms like Facebook, Google, Instagram, YouTube and Pinterest. You can view ads specific to Shopify stores and also generate top store reports.
It spies across all platforms and channels, finding ads from major countries around the world, being targeted at different audiences. It has the largest ad creatives and intelligence database among all other spy tools.
BigSpy's advertising tool provides you with the latest insights of top-selling products and helps you make better marketing or advertising decisions.
This is one of the most amazing features from Facebook which gives the opportunity of seeing all ads being run by your competitors. It also gives additional info about the organisation, when the particular page was created and from which country the page is being managed.
The coolest thing about Facebook ads library is that you also get to see all the current active ads on the page. It shows you all creatives and for how long it has been active. 
All you have to do is visit their page, goto Page Transparency and click on 'Go to Ads Library'.  And now you can view all the ads that the page is running.
As the name suggests, it's indeed a powerful ad spy tool which allows you to visit live ad posts from the platform. You can check real time engagement and audience response over the ads.
Poweradspy gives has database of over 6 million ads from 15+ countries. It gives you the option to search exact or relevant keywords, see campaigns full targeting options and download them.
Swiped.co is a go-to resource for copywriters and marketers who want some inspiration for a profitable promotion or marketing campaign.
Swiped.co breaks down the strategy and psychology behind advertisements and copy-writing examples so that you will have an in-depth understanding of the secret sauce that makes people buy.
Also, it will help you become more effective in your marketing skills and focus on key elements like persuasion, compelling copywriting which you won't find anywhere else.
Ad Spy is one of the advanced ad spying tools packed with several unique features. AdSpy offers the most number of search options than any other Ad Intelligence Tool as per your need.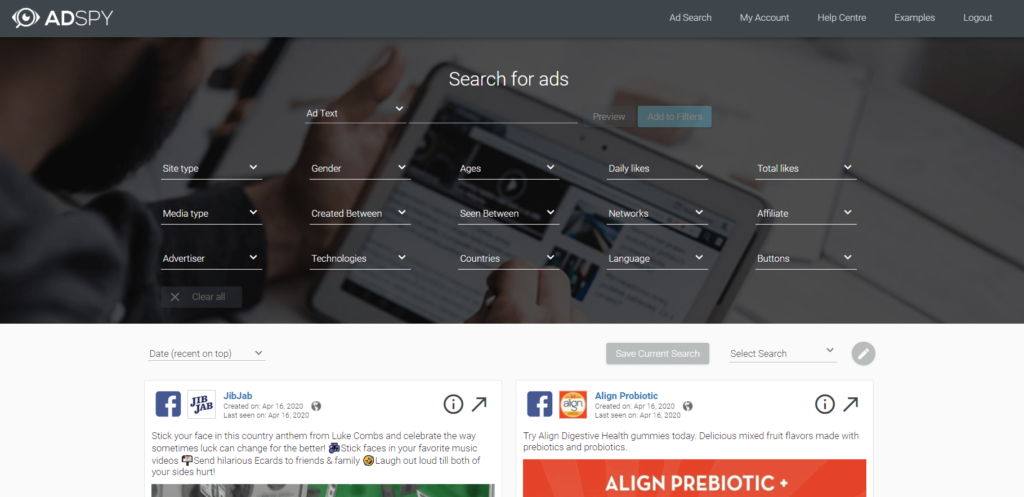 You can search as: ad text, URL, page name. It displays true data from user engagement in advert comments. Multiple search and filter options like affiliate network, store platform, affiliate ID, Offer ID, landing page builder – whatever helps you find the information you can work with.
There are many other Facebook Ads Spy tools for dropshipping product research. Check the complete list of product research tools. These tools are very useful as it gives you detail ads analysis which save your effort and time spent on doing manual product research.