Print on Demand (also known as POD) is a service where your products are printed individually after each sale. The POD method is a form of Dropshipping which means we don't have to keep any physical inventory – our suppliers will print, pack and ship our products to our customers, automatically, without we touching the product ever. Sounds pretty awesome doesn't it?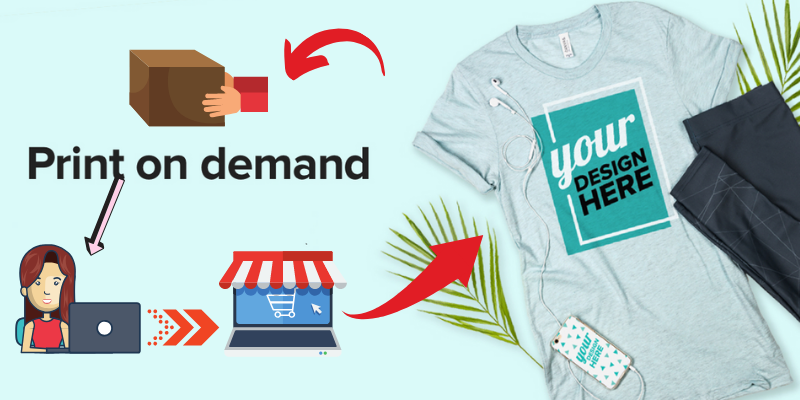 The POD Dropshipping model is perfect for new business because it mitigates some of the risk and requires minimum investment. Traditionally, if you want to start a new business, you'd have to purchase all of your inventory up front. But, with this model, we don't have any inventory; which means less upfront expenses and more opportunity to test new products, styles and designs.
Print on Demand services are very broad and cover a wide range of products. It began with simple apparel items, but since then it has expanded into a massive catalogue. Some common  products include t-shirts, sweaters, All Over Print (AOP) items, rugs, mugs, phone cases, tapestries, canvases, shoes, pillow covers, and the list is constantly growing.
Which is better? Print On Demand or Aliexpress Dropshipping?
This is the most common question most newbies have and the answer is very simple. If you are a creative person who loves designs and art, POD is the one you should go for, as POD is all about marketing your creativity.
Mainstream Dropshipping works like this: Taking a product off a wholesale website like Aliexpress, adding a mark-up, and selling it to a customer. When a customer purchases a product from your store, you order the product from the wholesaler, enter the customer's details and have the product shipped to them.
Print On Demand (POD) is also a form of Dropshipping. The only difference is you have full control over the products you sell and the designs you put on them. Also, the process is generally more automated than mainstream Dropshipping. 
By creative, I don't mean you are able to draw or design. Far from it actually. What I mean is you may have a keen eye for designs or products that look good. Able to look at a design and instantly tell whether it could work or not. Or whether it'll be better off on a different product. Or anything else. It's kind of like a little talent you may have or can develop with experience.
Finally, POD allows you to really niche-down. Yes, you could also establish a niche store using mainstream Dropshipping, but you can get more specific with POD.
The learning of POD business can still be applied to mainstream Dropshipping – POD just doesn't cover product research tactics specific to Aliexpress etc. Below you will see how to do research for designs and products specific to Print on Demand.
Types of Print On Demand Stores?
A niche store is a store that caters to one specific niche only. The more specific the niche, the more targeted your audience becomes. For example, you set your store up in the pet niche. All your products revolve around selling pet products. You can narrow this even further by going down the chain a bit more, and only doing a dog store.
A niche store would typically sell a range of products that feature designs of that one niche.
Niche stores are better for establishing a loyal customer base – if you build your brand up, people in the community will know that you're the go-to store for those kind of products.
A general store is a store that covers many niches. With general stores, you're not limited to a specific target audience. If you want to sell to dog lovers? You can. If you want to sell to gym enthusiasts? Got it. Sports fans? No brainer.
General stores would normally have a range of products under different categories or collections, covering many different niches.
Building a general store brand is generally a bit harder, but it's not impossible. Look at Bluecarte. They have a MASSIVE market presence and they're a general store. Thousands of customer reviews and tens to hundreds of thousands of orders. General stores allow you to test many designs and products and also allows you to market your products to large audiences.
Both of these store types allow you to list multiple products to your store. Either are great, but which one to pick between the two? I'd say go general to start with. Just make sure your navigation is on point. The easier of the two is niche though, so if you want something that's going to be easier to start up, niche is your choice.
BUT there another type of store which is not much popular but has huge potential. Its what we call a HYBRID Store. Let see what it is.
It's a single product store with a general store design. The key to this kind of store is that your product becomes a niche. Think about that for a second. Your product is the NICHE!
Now, the motive behind this store is that you select the right product, which can be difficult. But not impossible. Divvyup Socks is a good example. This store only sells one product – Printed Socks. But, the designs are variable, they have cats, dogs, animals, human face, artists and more.
The key to Skater Wall working so well was that the product itself is a niche.
This kind of store can work with almost any product, but the more of a niche the product is at the base level, the better your chances are. To give you some idea here are some examples of niches you can dive into.
Sock store, Mug store, Phone cases store, Puzzle store, Magnet store, Sticker store, Blanket store, Quilt store, Hoodie store, Pillow store, Baseball jersey store, Shower curtain store, Canvas/wall art store, etc.
The list goes on and on. Basically all you need to do is pick ANY product you want from a POD provider and make a store around that product and that product only.
There are two parameters here that you must follow though:
If your product is a low margin (low ticket) product, you MUST rely on upsells e.g. discounts on multiple orders or picking a product that has a higher margin (mid to high ticket) makes this store model a lot easier to become profitable because you're relying on only a few sales versus volume sales.
Key Points for a Successful POD Store
You might already have an idea of what kind of business you want to start and if you do, that's great news! Some people however don't. Most of us find it difficult to know where to start – which niche to choose from, which designs to start looking at etc.
This might seem daunting, but it really isn't.
As a marketer, we believe that you can sell any product. You might've heard in the past that you have to pick a niche that is active, or that wants to buy. But I'm here to tell you the opposite – anyone with good marketing skills can sell to their target market, no matter what. It does rely on some key principles though:
✔️ Your product has to have appeal
✔️ Your design has to have appeal
A lot of marketers say that the perfect ad consists of three requirements:
✔️ Right Product
✔️ Right Customer
✔️ Right Timing
So in short, you have to have the right design on the right product, advertise to the right customer and hit them at the right time to get that sale.
Sounds like a lot of work doesn't it?
Let's make this simple. Start off with something YOU would buy. What are your passions, hobbies, interests? Thinking of yourself as the target customer is the best way to establish which niche you should start in. Once you've developed some skills, you can sell to any other niche down the track. 
How to do Niche & Designs Research?
The four sources to look for design inspiration are:
Google

2. Etsy

3. Facebook

4. Pinterest
Search for the niche on these platforms. Let's say your niche is Unicorn. (although it's competitive, you can choose a unique product). We want to build a T-Shirt store store with unicorn designs on it. 
1. Google Search: Search for "Unicorn T Shirt" in google and see the shoppings tab. This will give you a whole bunch of ideas, which designs are selling. 
Use google trends to see whether people are interested in the niche. Google trends are the perfect tool to know the demand of the product with time and know where your target audience belongs. 
2. Etsy.com: Etsy is one of the best platforms for design and product ideas. It shows reviews for every product which gives you an idea of which design is selling the best. 
3. Facebook Audience Insight: This gives us the data from your audience. Look for the audience size for the top 5 regions: United States, Europe, Australia, Newzealand, Canada. You need to look for a niche with a minimum of 5 Million people because that gives you an option to scale. Enter 'dragon' in the detailed targeting. Check for more related interest in the suggestion box.
4. Pinterest: Search for ideas on Pinterest as well. Do the same for different print on demand products like Unicorn Mugs, Unicorn Phone Cases, Unicorn Hoodies and so on.
We can use these tools to spy on our competitors, find new products or niches and research our competitors.
Big Spy
Facebook Search
Facebook Ads Library
Power Ads Spy
Google Search "keyword" + "myshopify.com" for example search Google for "unicorn" + "tshirt" + "myshopify.com"
Google Trends
Commerce Inspector Chrome Extension
Amazon Movers & Shakers
Feeder.co RSS Feeds
Where to get Designs From?
Many dropshippers overthink on design. The design does not need to be complex. If you see the best selling T-Shirts on Etsy, most of them have one or two simple words written on it. See the design below. These are one of the top-selling designs. Isn't it simple? Anyone can create such a design.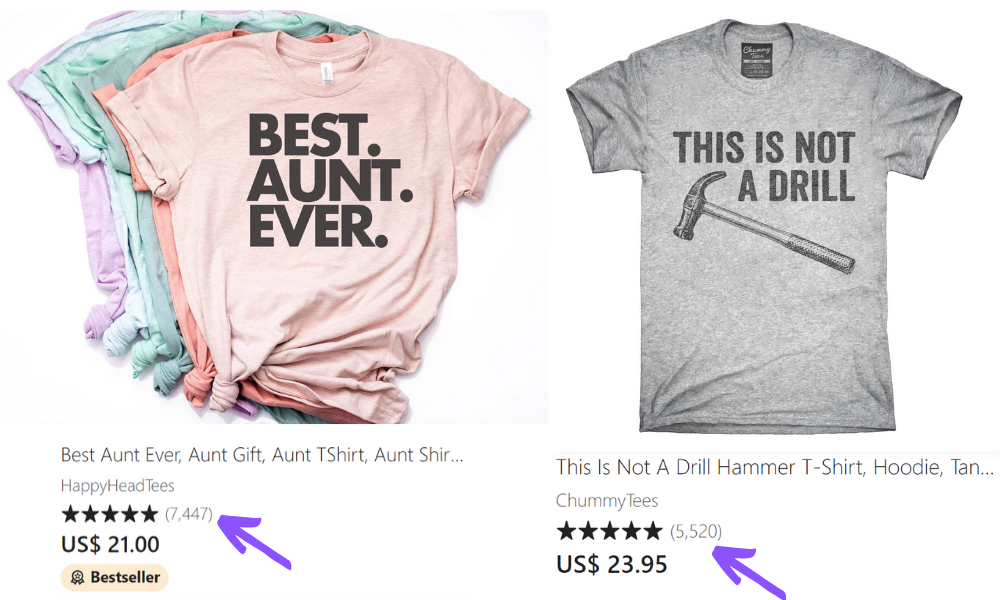 This part is really up to you. Some suppliers sell specific products, some are very broad. The main factors you want to consider are:
Product Quality

Product Cost

Shipping Time

Ability to White Label
Some suppliers tick the boxes on everything, some don't. You want to make sure your supplier checks out on at least the top 3 points I mentioned. White labelling is great, but not essential if it means you're getting a poor quality product or months in shipping time.
The companies I currently recommend include:
Subliminator

Teelaunch

SPOD

Printify

Printful

Gooten
You might find a few of these companies sell the same product that you're after. If they do, that's great! Order a sample from each and see which one is best for you.